Couldn't pick just one. Don't be mad. Oh and it's nearly afternoon. Don't be mad about that either. Oh and one picture is from yesterday. No. Two are from yesterday. You'll get over it.
Linkin' up with Katie at
Loves of Life
.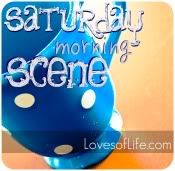 So. First things first. Today's actual picture. My new runners. Laced up. Took 'em a rough 2.5 today. Oh and those legs, with spandex on them, they've helped me lose 12 pounds in 9 weeks. Rock. On.
This face. For real. How could you not? Eat her. Seriously. Oh and the bow. You can't see it but it's black toile. Black. Toile. I die.
Oh and this MOTY made a dream come true yesterday. We. Met. Racer. Queen. That's right. And Mater. AND Miss Sally. Seriously. Dream come true.
The Best part? the 12 pounds, clearly. And a dream come true.