I'm doing it. Linking up with Katie at Loves of Life. Thing is. Not sure how. So. Here's our scene.
It's a bike helmet wearing, exersaucer chilling, letting Daddy sleep in, kinda Saturday here at the Best part.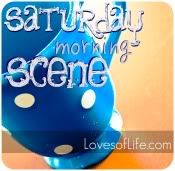 The Best part? He slept in the helmet. AND, I think I figured out th link up!