So my Dad made up a meeting as an excuse for them to come in town. So much so that a colleague wrote an email, fabricating said meeting so that he could forward it to me.
My Mom has a torn meniscus. The party was upstairs. They had to stay at a hotel because of stairs at our house. They didn't miss it.
I talked to a lot of my friends during the day. No one flubbed. No one wavered. My tweeting-est friend didn't even check in anywhere yesterday.
My Dad mailed pictures to a friend who made these. There are a few unfortunate pictures in there. I suppose we all have them.
I drank out of this. Duh.
No one looks cute crying. I posted this picture because it fully captures my emotions. How blown away I was by the love in the room.
He made it happen. He is amazing.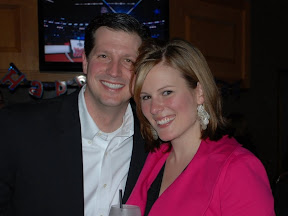 So I was shocked. And then. 20 minutes after I got there. My brother (who lives several hours away) walked in.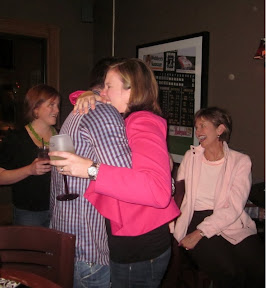 We may look a little bit alike
And then we took a shot. I wish I had a picture of my Mom's proud face while they was going down. The toast went something like this: here's to you, here's to me. Forever friends we will be. But if we ever disagree, then f*#! you and here's to me.
I really don't remember the last time I had a shot. Its been that long. It was fruity. Thankfully.
And we drank. To celebrate 30. Cause he pulled it off. Phenomenally.
I am luckier than I deserve. I have amazing family and friends and who doesn't want to to turn 30 with all of that? Bring it.
Oh, and I got an early present from the baby. She slept 13 hours last night. I slept five. But that's cause I am awesome and drank until 2am.
The Best part? Blessed.